WKMBCLAW.COM Presents: Bradley G. Garber's Board Case Update for July 10, 2017
Dr. Garber's
DISPENSARY OF COUGH SYRUP, BUFFALO LOTION,
PLEASANT PELLETS, PURGATIVE PECTORAL, SALVE
& WORKERS' COMPENSATION CASES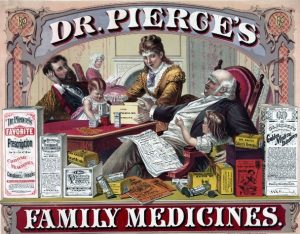 by Brad G. Garber
Wallace, Klor, Mann, Capener & Bishop 
Board Case Update: 07/10/2017
The Board, the Court and the Legislature:  People keepin' busy…
Luis Vilca-Cardenas, 69 Van Natta 1122 (2017)
(ALJ Donnelly) 
Claimant requested review of the ALJ's Order that: (1) did not award temporary disability benefits; (2) affirmed Workers' Compensation Division's (WCD's) order that declined to reclassify his low back claim, from nondisabling to disabling; and (3) declined to award penalties and attorney fees for alleged unreasonable claim processing.
Claimant injured his low back on September 21, 2015.  He sought medical care and was released to modified duty work.  Claimant told a co-owner of the employer that his work activities were restricted (he was unable to lift more than five pounds, according to the medical provider).  The employer could not accommodate him, so he was sent home.
Here's the catch: Claimant was injured on September 21, 2015; he did not tell his employer about the injury (this point disputed) until October 1, 2015.  The employer had a written policy that warned employees that they were to report any injury, immediately.  Because claimant did not do that, he violated company policy and his employment was terminated.
On November 30, 2015, SAIF accepted a nondisabling lumbar strain.  Claimant requested reclassification. SAIF refused to reclassify.  Claimant requested Department review.  On May 6, 2016, the WCD issued an order that affirmed the nondisabling classification.  See ORS 656.325(5)(b); OAR 436-060-0030(6).  Claimant requested a hearing.
Reasoning that claimant would have been paid his full wages, had he not been terminated "for cause," SAIF refused to reclassify the claim.  "If a worker has been  656.325(5)(b) allows a carrier to stop paying TTD and start paying temporary partial disability (TPD) compensation when the attending physician approves employment in a modified job that would have been offered to the worker if the worker had remained employed."  Vilca-Cardenas at 1124.
The Board went on to explain the framework of its analysis in such cases, as follows:
"Thus, there are two conditions precedent to the application of ORS 656.325(5)(b).  First, we are required to examine the factual reasons for the termination to determine whether the claimant was, in fact, terminated for a work rule violation or other disciplinary reason.  See Robert P. Krise, 196 Or App 608 (2004).  Second, the attending physician must approve employment in a modified job before ORS 656.325(5)(b) can be applied.  See Morales v. SAIF, 339 Or 574, 581 (2005)("ORS 656.325(5) unambiguously conditions both the obligation to stop paying [TTD] and the obligation to begin paying [TPD] on the attending physician's approval of employment in a modified job.")."
In this case, claimant conceded that he violated company policy by not reporting his alleged injury in a timely fashion.  So, the Board moved on to examining whether a modified job position had been approved by the attending physician.  The Board set out the process for that analysis, as follows:
"OAR 436-060-0030(4) implements ORS 656.325(5)(b) and provides that the carrier shall cease paying TTD (and start paying TPD) if four conditions are satisfied.  Those conditions are: (a) the employer has a written policy of offering modified work to injured workers; (b) the carrier has written documentation of the hours and wages that would have been paid [but for the termination of employment]; (c) the attending physician has been notified of the physical tasks to be performed; and (d) the attending physician has agreed that the tasks appear to be within the worker's capabilities. OAR 436-060-0030(4)."
The Board determined that the last two requirements had not been satisfied and, so, found that SAIF could not convert TTD to TPD.  Reversed; claim reclassified; $10,000 attorney fee, plus 25% penalty to claimant, on "amounts due."
From the Court:
McDermott v. SAIF, 1403683; A160016 (June 28, 2017) 
Claimant's impairment was apportioned, upon claim closure.  He had a statutory "preexisting condition."  Claimant alleged that apportionment could not be performed in the absence of a combined condition acceptance, followed by a combined condition denial.  The Court took the issue on, en banc, and by a vote of 7:6 determined that claimant was wrong.
Claimant argued that, under ORS 656.268(1), as interpreted by the Oregon Supreme Court, in Schleiss v. SAIF, 354 Or 637 (2013), apportionment to exclude an award for impairment due to a preexisting condition is permitted, only, when the preexisting condition has been accepted as part of a combined condition claim, and then denied.
The majority of the Court disagree with this position, noting the following observation in the Schleiss decision:
"We conclude that it is unnecessary to resolve the parties' disagreement concerning the burdens of asserting and proving a combined condition claim, because there is no evidence in the record that either of the contributing causes on which the medical arbiter and the board relied is a legally cognizable preexisting condition that would authorize the apportionment of claimant's impairment in a combined condition claim."  (emphasis added).
The Court found that claimant's preexisting arthritic condition was legally cognizable under ORS 656.005(24) and could be subject to apportionment, upon claim closure, without having to have been accepted as part of a combined condition.  Affirmed.  Because of the closely split decision, this one will go up to the Oregon Supreme Court. 
Enrolled House Bill 2335: 
This bill passed both houses of the Oregon Legislature and was signed by Governor Brown.  It goes into effect on January 1, 2018.  The bill affects the appointment of a medical arbiter panel pursuant to request under ORS 656.268(8)(c) and gives the Director the discretion to appoint "up to" three physicians.  In other words, an arbiter panel may, at the discretion of the Director, be limited to two physicians.  Let's see…how many panels do you think will consist of Takacs & Takacs?  The Department will be holding a rulemaking advisory committee meeting on July 25, to discuss how the Director should use this new discretionary power, and how the amended statute affects OAR 436-060-0165.