WKMCB Welcomes Attorney Caleb Leonard as Its Newest Shareholder New Shareholder Announcement – WKMCB Welcomes Oregon Workers' Compensation Defense and Personal Injury Defense Attorney Caleb Leonard as Its Newest Shareholder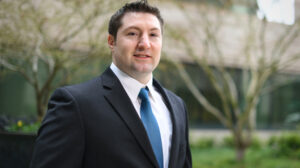 Wallace, Klor, Mann, Capener & Bishop is proud to announce that attorney Caleb Leonard has been named as its newest shareholder. Caleb brings first-chair practice in all aspects of jury and bench litigation, appellate practice, and mediation, primarily focusing on workers' compensation defense and personal injury defense.
"He is a very hard worker.  He is dedicated to his practice and family," said attorney Chris Bishop.  "He gives very pragmatic counsel, and is always looking for ways to achieve the best results for his client."
Caleb received his Bachelor of Science degree from Oregon State University, where he majored in political science with a minor in history; he then proceeded to earn his Juris Doctorate at Regent University School of Law following which he was admitted into the Oregon Bar.
Prior to joining the Firm, Caleb's practice included Social Security Disability claims and appeals, personal injury defense, business transactions, and civil litigation. Additionally, he litigated hundreds of cases and appeals in courts across Oregon, including Oregon U.S. District Court, Oregon Circuit and Justice Courts, Tax Court, and in state and federal administrative proceedings.
Caleb has been a Golden Gloves / USA State Champion in the Middleweight division, participating in the USA Boxing Championships and the Olympic Trials. He is also an avid outdoor enthusiast, enjoying camping, hiking, and fishing with his young daughters and beautiful wife.
We are proud to welcome Caleb Leonard as WKMCB's newest shareholder. He brings a wealth of experience and knowledge that will be invaluable to our clients, who count on us for first-class representation throughout Oregon, California, and Washington.