WKMCB Welcomes Attorney Lester Marshall as Its Newest Shareholder New Shareholder Announcement – WKMCB Welcomes Oregon Workers' Compensation Defense Attorney Lester Marshall as Its Newest Shareholder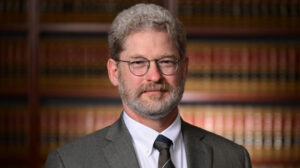 Wallace, Klor, Mann, Capener & Bishop is a workers' compensation defense firm that provides first-class representation to employers and insurance companies throughout California, Oregon, and Washington. We believe our mission includes providing the best possible service to our clients, which is why we are proud to announce that attorney Lester Marshall has been named WKMCB's newest shareholder.
"He is very thoughtful and detailed oriented litigator.  He knows how to negotiate a good resolution for his client- when needed. I look forward to working with him for many years to come," said Attorney Chris Bishop.
Lester's practice focuses on workers' compensation defense, and he has extensive experience representing employers and insurers in settlement negotiations in complex cases and administrative law courts. Les strongly believes in minimizing employee fraud and abuse of workers' compensation systems, which led him down this path as a defense attorney representing employers and insurance companies against employee lawsuits.
Lester is known for his strong reputation as an attorney who gets results while maintaining good relationships with opposing counsel and clients alike. In addition to being admitted to practice law in California, Oregon, and Washington, Les has been actively involved in the Los Angeles County and Oregon Bar Associations as well as many other community organizations, including the YMCA, Brighton School, UCLA Extension to Urban League, and the USC Joint Education Project.
Prior to joining the firm, Lester's previous experience included defending workers' compensation cases on behalf of insurance companies and self-insured employers. In these positions, he managed all aspects of cases, including legal research, development and implementation of discovery plans, depositions of expert and lay witnesses, negotiation of settlements, and client briefing conferences and court appearances (including pre-trial conferences and trials).
WKMCB is thrilled to welcome Lester to the shareholder team, and we look forward to helping him expand his career as one the leading workers' compensation defense attorneys in the Northwest.